Read on if you want answers to these questions: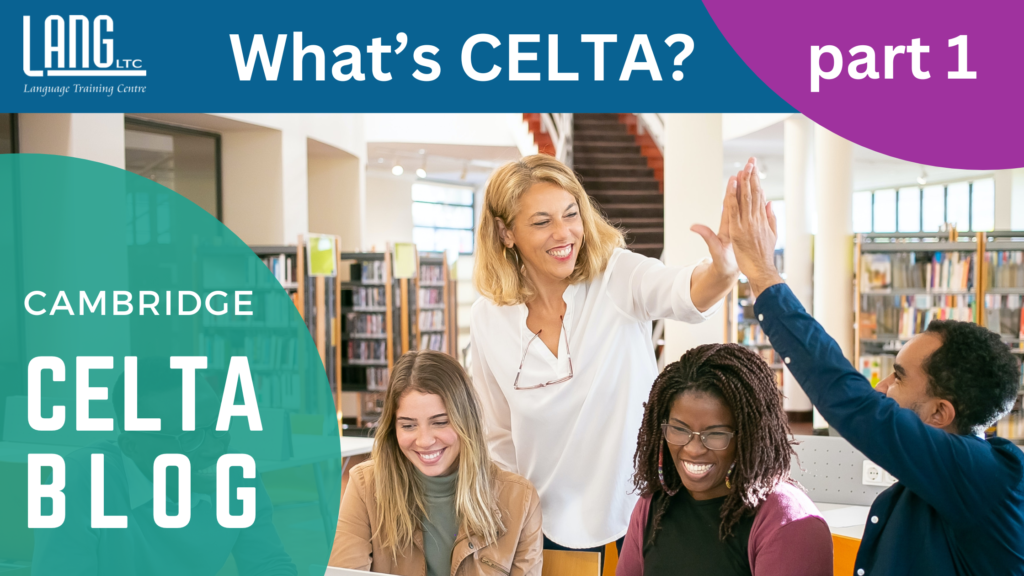 What is the Cambridge CELTA certificate?
CELTA (Certificate in Teaching English to Speakers of Other Languages) is the most globally recognised teaching qualification awarded by Cambridge English Language Assessment. CELTA from Cambridge is the certificate required by 3 out of 4 English Language Teaching (ELT) jobs in the world.
CELTA prepares you to teach English to adult learners, and you can take a course 100% online or face-to-face. There are also blended programmes – the so-called mixed-mode CELTA courses, where participants teach students online and face-to-face during one course.
Importantly, the Cambridge CELTA certificate is the same for courses conducted face-to-face and online as all the courses follow the same syllabus and meet the same high global standards.
The course is highly practical and includes 6 clock hours of assessed teaching to groups of real students at two different levels of English.
Which CELTA centre to choose?
Cambridge gives their authorization to selected teacher training centres around the world. Some of these centres belong to huge language school and/or exam centre networks (for example, British Council, International House or Teaching House) and their courses around the globe follow a similar format, with more courses and more participants most of the time.
Others, just like our cosy yet well-established centre, Lang LTC – the only Cambridge English Platinum Centre in Poland – met the Cambridge CELTA Centre accreditation requirements despite their limited resources. At Lang LTC, we received the Cambridge CELTA accreditation years ago, maintained this status with consistently rave reviews from Cambridge CELTA Assessors and have been developing our courses ever since in a more agile style, adjusting the format to the specific needs of our course participants, tweaking the course design from course to course.
Regardless of your geographical location, you can choose the centre you trust, especially if you opt for the online CELTA course.
You may ask yourself: Which CELTA centre is the best for me? Take the CELTA interview and meet one of the CELTA tutors at the centre: in conversation, you will soon work out if they are the expert you want to work with. 

Cambridge has its own CELTA centre search tool, which you can access here. Find the centre you seem convinced by and apply directly through their website.
There are also commercial agencies which charge centres for recruiting candidates for their courses (e.g. StudyCELTA, CELTADELTA are usually the first ones to pop up in Google browsers). You can use them if you feel completely lost and don't want to make a decision on your own.
Just remember: CELTA agents are in no way connected to or recognised by Cambridge, they are not accredited CELTA centres, they do not employ accredited Cambridge CELTA tutors and they do not run their own CELTA courses. They simply work like tourist or real estate agencies for CELTA candidates.
Who can take the CELTA course?
The most beautiful part of the CELTA experience is the adventure of learning from each other. Even though you are assessed individually, the course is designed as a team experience. At Lang LTC, the only Cambridge English Platinum Centre in Poland, we have multinational teams of teachers participating in the course. These teachers belong to several different groups but share certain characteristics.
The entry requirements for CELTA candidates at Lang LTC:
You are at least 20 years old
You have a high school diploma or a higher qualification. It does not need to be connected to teaching English as a foreign language.
Your English language awareness, how well you understand English grammar, how you express yourself in writing and speaking and how you understand written and spoken English are at a strong CEFR C1 level. (At Lang LTC, we do not require a certificate if the application and interview tasks provide sufficient evidence of your English proficiency)
If you apply for an online course, you are a confident user of basic digital tools. Download this TECH REQUIREMENTS guide for more detail
You have completed the application, the interview task and the interview (online on ZOOM) successfully
No previous teaching experience is required
Who takes CELTA courses?
C1 or C2 English speakers who want to start working as English teachers
English teachers – with little, some or massive experience – who want to travel and teach English or want to teach outside of their home country
online English teachers who don't feel confident about their own methods and teaching style or want to eliminate the imposter syndrome
teachers who completed a TEFL course and do not feel prepared for teaching
digital nomads, homeschooling parents and other people who want to teach English as an online hustle job for extra income
experienced teachers who need inspiration to fight professional burnout
Young Learners teachers who want to start teaching English to adults
small school owners / edupreneurs who want to find out more about teaching, lesson observation and feedback through first-hand experience
Remember: You do not need any teaching experience to be accepted on the CELTA course.