Cambridge CELTA ONLINE part-time courses with Lang LTC
WHAT'S Cambridge CELTA?
CELTA is the most internationally recognized English Language Teaching certificate in the world, with the highest standards assured by Cambridge English Language Assessment throughout the course.
This uniquely practical teaching qualification, aimed at those with no, little or extensive teaching experience, exceeds all platform- and theory-based TEFL courses. A fusion of theory and practice – it combines a practical approach to methodology and extensive supervised teaching practice with feedback from Cambridge accredited tutors.
Importantly, CELTA is NOT an exam or test. You obtain a certificate after completing the course and once you have met all the Pass criteria. The online CELTA course follows the same Syllabus as the face-to-face course and the certificates are identical. The mode of delivery (f2f or online) is not mentioned on the certificate.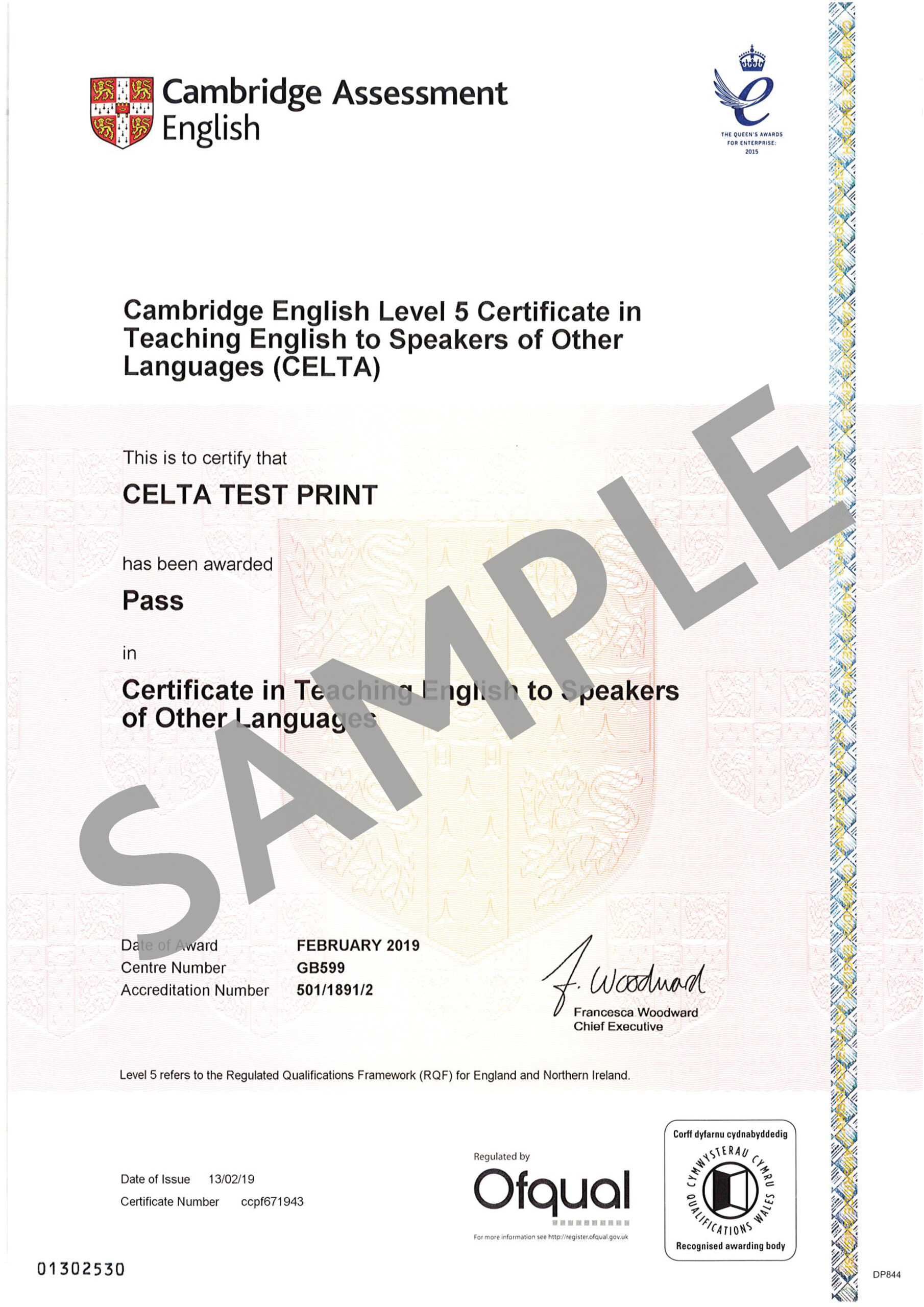 "This centre continues to provide a course of very high calibre. This team of tutors worked extremely well together to support and guide trainees throughout the course"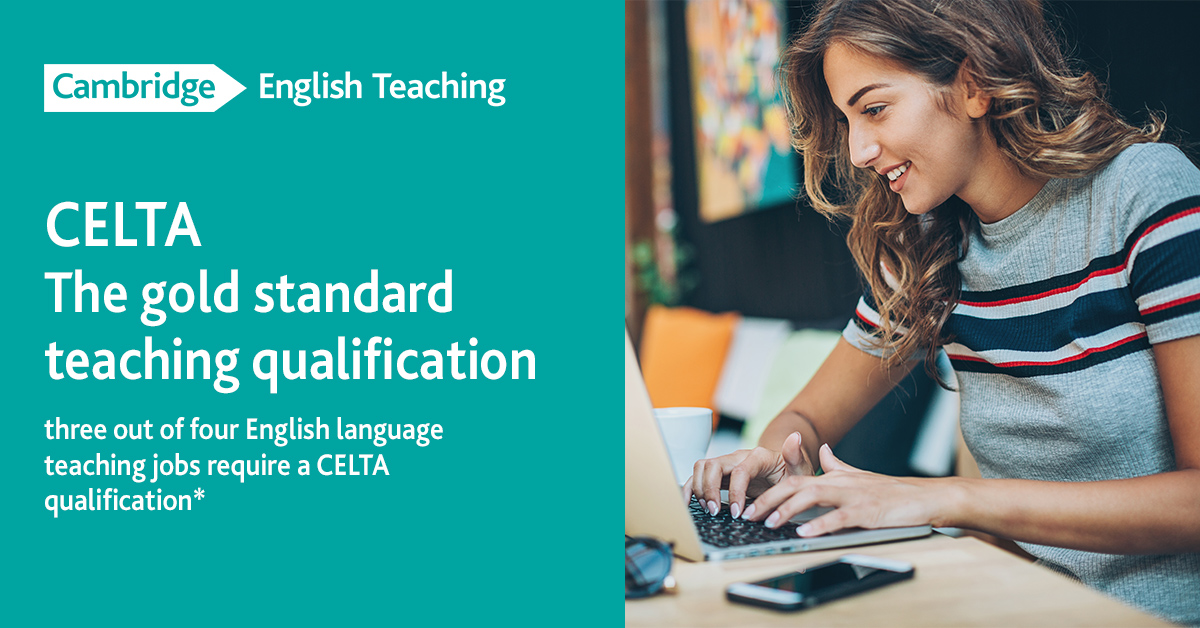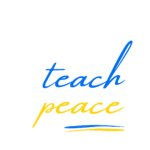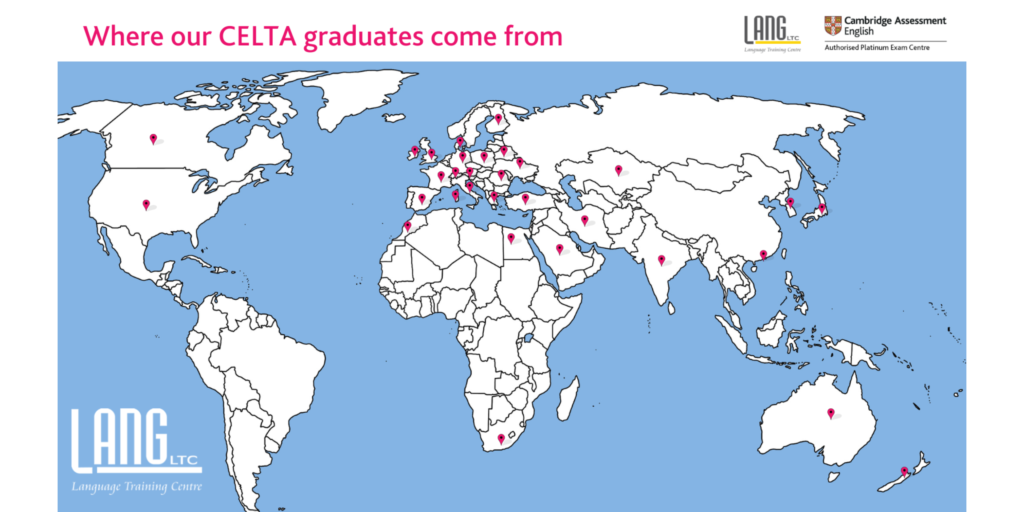 DO I MEET THE ENTRY CRITERIA?
WHO IS CELTA FOR?
Everyone! It was originally intended as an introductory course for people with little or no previous English language teaching experience or training. However, its unique blend of theory and practice, especially the teaching practice component, make it ideal for the novice and the expert alike. Whether you are looking to brush up on your skills, reinvigorate your career or start a new chapter, CELTA is for you!
It will give you the skills and confidence to teach English to adults whether you're a recent graduate or looking for a career change or a seasoned professional.
Our candidates represent a variety of professional, age, ethnic and national groups. This course is a great option for:
 C1+/C2 users of English looking for a career change & thinking of teaching English
 Experienced & new teachers of English and other foreign languages
 College/university students who want to start teaching but lack practical preparation
 Experienced teachers looking for inspiration and guidance
 Experienced teachers fighting professional burnout
 Freelance teachers hungry for guidance and  feedback
 (Very) Young Learners teachers who want to start teaching adults
 Edupreneurs and freelancers who want to become more competitive when teaching online
 Language school owners who want to upgrade their own teaching skills
Please apply if you meet the following entry criteria from Cambridge:
Previous teaching experience is fully optional.
You have a standard of education equivalent to that required for entry into higher education.
You are aged 20 or over.
You have a standard of English (language proficiency and language awareness) which will enable you to teach at a range of levels. The required minimum is C1+ or higher (CEFR scale). You may have a Cambridge C1 Advanced certificate with Grades B or A or a Cambridge C2 Proficiency Certificate with Grades C, B or A. Or perhaps you hold an IELTS certificate with all the skills assessed at 7.5 or higher. Whether or not you hold a certificate, your language level will be verified during the application process. For this reason, the certificate is NOT required.
You are in the time zone which allows you to participate in our real-time sessions: 9:30-17:00 Warsaw time
You have a laptop/computer with a reliable, strong connection to the internet – sufficient for group video conferencing.
You have a video camera, microphone and a headset compatible with your laptop/computer.
You have a quiet place to teach online from.
You know how to use the basic functions of Google Drive and Google Classroom.
You type and edit documents confidently, quickly and easily, using Office Word or Google Docs.
You can crate a slide deck, using Powerpoint or Google Slides.
You know how to edit, download, save and upload files.
You know how to insert images into slides and documents.
You organise and store files on your desktop/laptop or in the cloud effectively, and you can find information easily.
You have experience in using ZOOM for video calls.
You can find more tech-related requirements right below:
HOW TO APPLY?
WHAT ARE THE COURSE DATES?

FULLY ONLINE
Saturdays, 9:30-15:00 CET

Applications close: October 14th

START: October 14, 2023
END: March 23, 2024 (last ZOOM session on March 16)
incl. a winter break December 10-January 12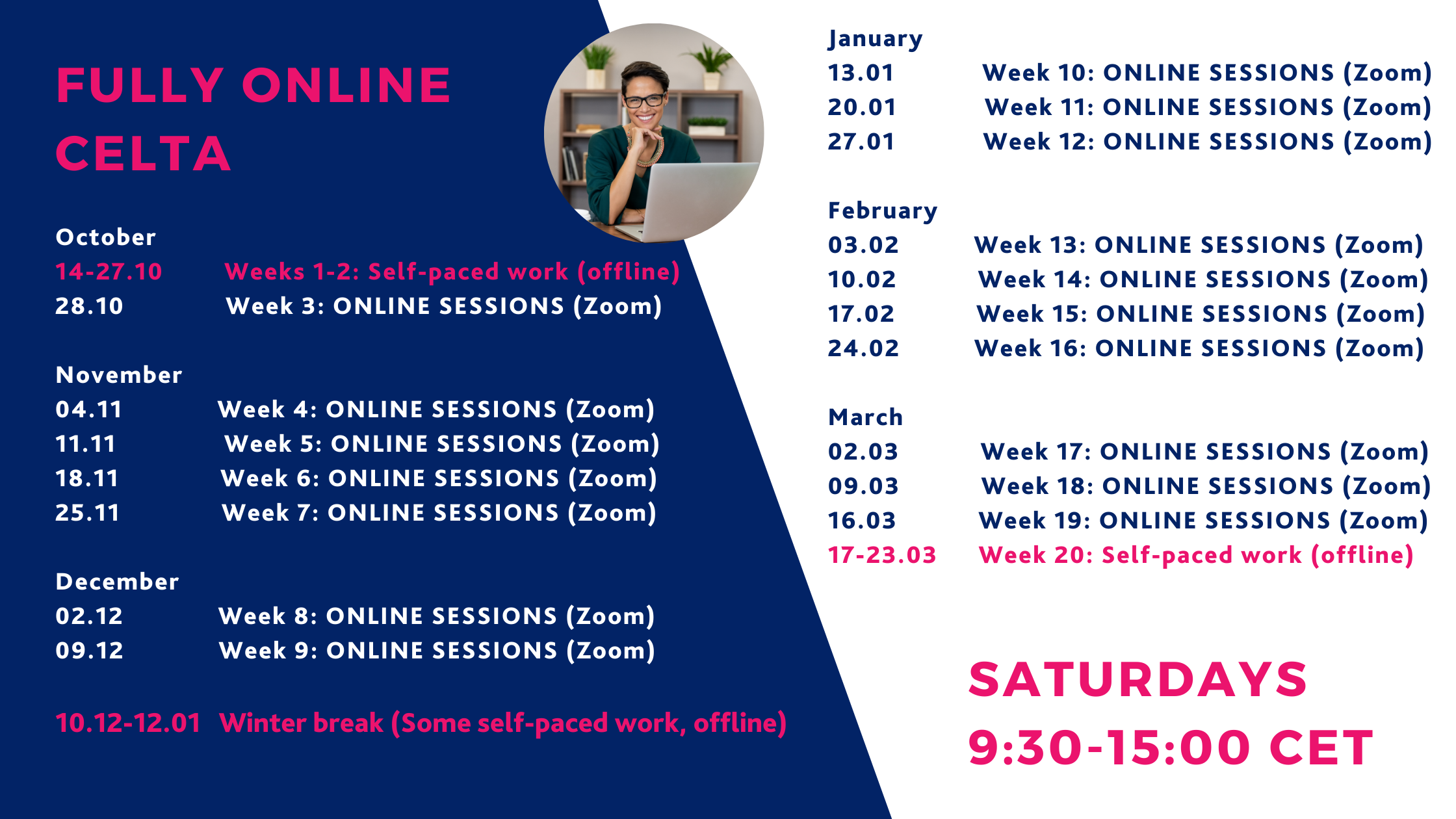 WHAT IS THE COURSE SCHEDULE?
Our courses this autumn are held
once-a-week, on Saturdays, with a longer seasonal break
.
They are quite intensive but perfect for people who want a more relaxed pace and need to keep their other commitments during the week. You can keep earning money and enjoying Sundays off while doing the course with us.
During the course, you meet tutors and students in real-time during live video sessions, human-to-human online. You don't learn passively on an online platform but actively, in conversations with tutors and your colleagues. You need to attend 100% of the scheduled sessions.
A typical day includes the following live video online meetings on ZOOM:
Teaching Practice aka TP (observed and assessed 45-minute lessons, max. 1 lesson per week, 8 lessons in total)
TP Eye Opener Session (group discussions after each observed TP)
Individual Tutorials (twice during the course)
Lesson Observations (tutor demos and lessons by experienced CELTA-qualified teachers)
Input Sessions (interactive workshops)
Consolidation Sessions (Q&A slots when you can ask tutors questions )
CELTA Lounge (time to socialise and have a laugh together)
You also need to make time for self-study during the week: it is up to you when. In total, you will need min. 80 hours for self-study per course (ca. 8-12 hours per week). This self-study is not scheduled or directly supervised – you will simply need this time to prepare and you decide when you can do it.
Before each of your 8 observed lessons, you will also have a 30-60 minute ZOOM consultation with your tutor about the lesson plan – we call it GLP aka Guided Lesson Planning. This will be scheduled at a time convenient to you and the tutor.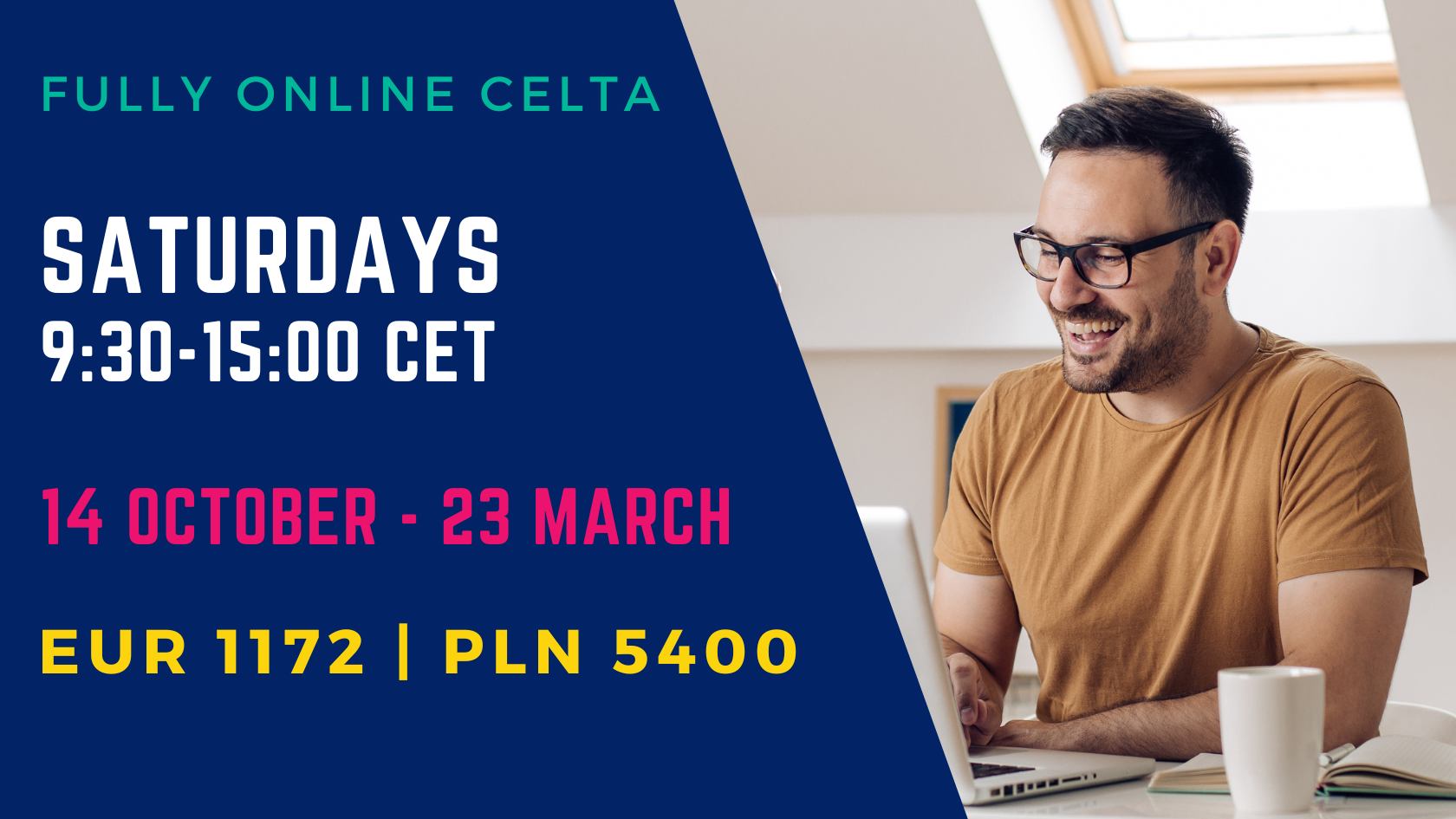 HOW MUCH IS IT?
WHICH CELTA FEE IS THE BEST FOR ME?
EARLY BIRD fee is a great deal (EUR 1052 or PLN 4850) if you pay early – no later than September 22, 2023.
STANDARD fee (EUR 1172 or PLN 5400) is your pick if you decide to join the course quite late and you can only pay on or after September 23, 2023.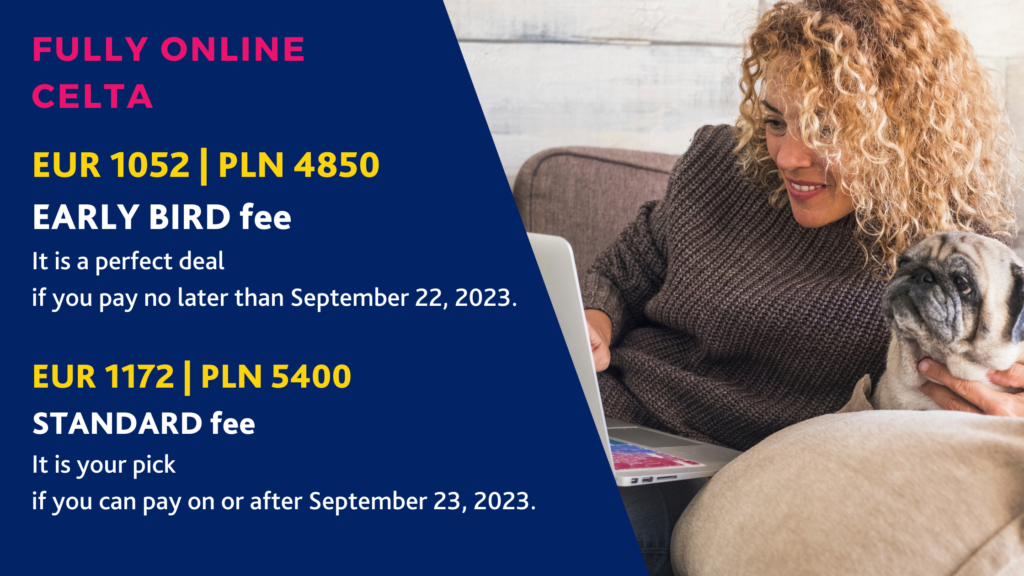 WHAT'S INCLUDED? HOW DO I PAY?
ALL-INCLUSIVE FEES
The course fee covers everything with no extra costs for you. The course fee covers:
all Cambridge TQ fees
tech tutorials
pre-course preparation tasks
induction programme
120-hours of tuition from fully qualified, experienced Cambridge Teaching CELTA tutors, who are also active online teachers
all the resources needed to complete the course (online coursebooks, reference books, journal articles, etc.)
lessons with international groups of lovely students (adult learners)
a multicultural team adventure online
an end-of-course ZOOM celebration
shipment of your certificate (if needed)
You don't need to pay for access to any apps we use during the course.
DEPOSIT
To secure a place on the course after a successful interview, you need to pay a non-refundable deposit of 250 EUR/1150 PLN no later than 48 hours after you receive the email of confirmation.
THE WHOLE FEE
The balance is due before the course start date (see the due dates in the price list and in the contract you sign)
.
You can pay in installments but the whole fee has to be paid before the course starts.
No payment can be completed UNTIL the candidate receives the email of confirmation from the centre.
BANK TRANSFER
Bank transfer (EUR) 
Subject: your full name_CELTA
LANG LTC SP. Z O. O.
ul. Sędziowska 5,
02-081 Warszawa 
IBAN: PL43 1240 1040 1978 0011 1810 3115
SWIFT: PKOPPLPW
Bank Pekao S.A
ul. Grzybowska 53/57, Warszawa  
Bank transfer (PLN) 
Subject: your full name_CELTA
LANG LTC SP. Z O. O.
ul. Sędziowska 5,
02-081 Warszawa 
IBAN: PL 18 1240 1040 1111 0011 1810 2974
SWIFT: PKOPPLPW
Bank Pekao S.A
ul. Grzybowska 53/57, Warszawa
Online payment in EUR:
EARLY BIRD FEE
EUR 1052
–
click here to pay in EUR
—
STANDARD FEE
EUR 1172
–
click here to pay in EUR
—
Online payment in PLN:
EARLY BIRD FEE
PLN 4850
–
click here to pay in PLN
—
STANDARD FEE
PLN 5400
–
click here to pay in PLN
—
INVOICESInvoices are issued on request as long as the request is made before the payment is completed.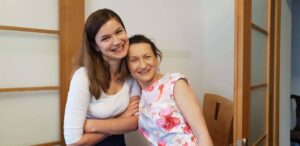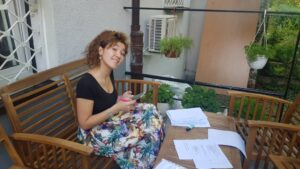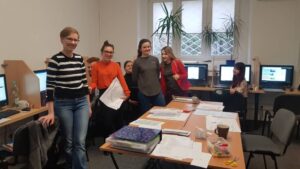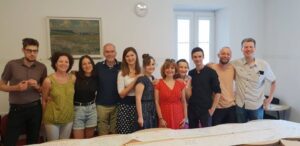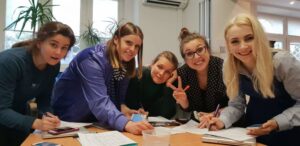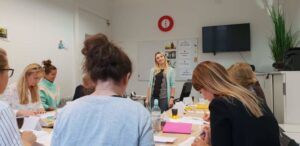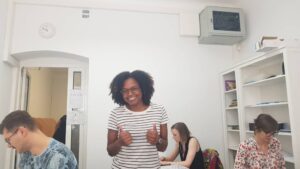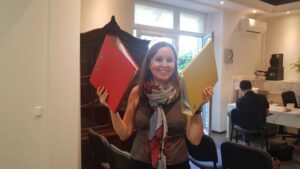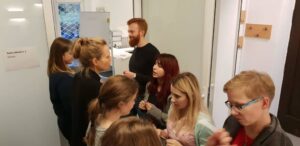 WHAT DO LANG'S CELTA GRADUATES SAY?
When I subscribed to the online CELTA course at LANG LTC, I knew it was marketed as a highly practical experience. However, I was so used to being fed with sets of online info-dumping sessions one can store in their brain, but few of which may actually translate into skills, that I didn't want to keep my hopes up. I was prepared to be just another tile on the screen, another number, slumbering throughout the course and waking up only for the eight hours of teaching.
Little did I know.
Some people say, "Give a man a fish, and he'll eat for a day. Teach a man to fish, and he'll eat for a lifetime."
This team of people will not only show you how to fish. They'll give you a proper fishing rod, made of solid, well-researched elements. They'll venture with you towards the stormy seas of online teaching, guiding you through the challenges of online classroom management toward your best performance. They'll personalize your path, making sure you progress no matter the point at which you start. They will do their best to answer every question you may have and they will do so with a pinch of humour one may so much need in difficult moments coming naturally with every worthwhile challenge. And all the while, they'll genuinely care for your mental health, making sure you keep the right balance between hard work and time to unwind.
Prepare for a concentrated dose of professionalism, knowledge, practical training, creativity, and empathy.
And for that magical moment, to share with other trainees and your tutors, when you'll see that spark in your students' eyes: "I've learned it and I've enjoyed it".
It has been a very challenging experience, but undoubtedly worth the effort. The course was well-organized, input sessions were well-planned, and feedback was clear and well-balanced. There were lots of opportunities to develop practical teaching skills. The tutors were outstanding! They were very supportive, patient, motivating, and always ready to help.
I really enjoyed the course given by the Warsaw center. Milada and Beata were excellent tutors and really showed care in everything we had to do and in helping us succeed. I was very impressed with how professionally things were organized, from day-to-day communications to assignment briefings and tutoring. I'm truly satisfied with the course being 100% online under a part-time scheme. This worked perfectly for me. I had only wished that the circumstances allowed for some on-site learning and meeting other candidates. I think that's what any students would miss or long for to some extent, even if it's just a one- or two-day workshop.
I learned a lot in this entire process and journey, not only about teaching English but also about self-development through identifying my own strengths and weaknesses in teaching, thanks to all the tutors.
I definitely had many take-aways, and I'm just very glad I chose the Warsaw center. Thank you for everything, Milada, Beata, and Sarah. 🙂
If you are still wondering whether to join CELTA in Warsaw, wonder no more. Great people and great experience. Not only did I meet some like-minded people from the field of teaching, but I was also able to learn a great deal of new techniques that I use now on a daily basis. Milada and Beata, as well as the whole team in general, are really fully-fledged specialists here. They take care of your CELTA needs like no one else possibly could and they really know what they are doing. Just trust the process, stay patient, focus during the seminars and have fun with your students during your teaching practice. A real must for ambitious and challenge-seeking teachers!
The CELTA course and everything I experienced doing it has always been one of the nicest memories. I learned plenty of very useful and practical things about how to teach, deal with teaching problems and how to build good relations with the students and co-teachers. I also realized how crucial it is to be able to work as a part of a team. The atmosphere and people at the course were brilliant. I strongly recommend CELTA to everybody!
The CELTA course offered in Warsaw is truly great. It requires a lot of work to complete. However, all the mentors are very helpful, informative and eager to see you succeed. We received a lot of support. Furthermore, the input sessions were both information-packed and fun. I firmly believe that everyone made progress, whether they started the course as complete novices or teachers with years of experience. I'd fully recommend completing CELTA at this particular location.
Our trainers had diverse strengths which ensured that we learnt something different from each one of them, and the course structure was aptly designed to ensure we got what we needed when we needed it. They were always ready to lend a helping hand (or a shoulder to cry on) and the feedback was always constructive.
The course has been incredibly useful in giving me a practical and solid methodology to provide my classes with more structure and student-centred activities.
WHO ARE THE TUTORS?
WHAT SHOULD I KNOW ABOUT THE CENTRE?
We are the only Cambridge Platinum Centre in Poland and we are authorised to run face-to-face and online CELTA courses.
Based in Warsaw, at Lang LTC, we have been a major force on the Polish ELT scene for over 30 years, enjoying fruitful relationships with PASE (Polish Association for Standards in Language Education) since 2002 and Cambridge since 2009. A thriving Cambridge English Examination Centre, since 2013 we have enjoyed the status of a Platinum Centre, the highest accolade accorded by Cambridge. You can take your TKT and DELTA Module 1 exams at our centre.
In Poland, we are the first CELTA centre that established its strong position as a quality CELTA course provider without affiliation to any international chain of schools. We have developed our course format independently while learning from and with the best Cambridge CELTA Tutors and Assessors. Our Team of Tutors includes four tutors working together at the centre: Milada Krajewska, Beata Palińska, Grzegorz Południak and Karolina Bekker-Łukaszewicz. Aeddan Shaw, Sandy Millin, Alex Tilbury, Amanda Davies, Adrian Post and Sarah Jane Findlay were among the amazing tutors who supported our Team over the years and belong to our CELTA family.
The centre we have created meets the highest Cambridge English standards, as confirmed by every single Cambridge Assessor's report, which motivates us to learn from every single CELTA course we run. We do not just give feedback, we take it gladly. When doing your CELTA at LANG LTC, you can count on professional guidance, tonnes of inspiration, a personal touch, a cosy atmosphere and … we will always have time for you. LANG LTC's fully qualified, experienced tutors form a close-knit team of Cambridge Accredited CELTA Tutors, based at the centre: we know each other, like each other and enjoy creating a positive learning environment: our team spirit is infectious.
As a respected teacher training centre, LANG LTC has been the force behind popular teacher training initiatives, such as TWIST conference for teachers, Lesson Festival, PLANetarium, STORYlicious, TKT Young Learners and TKT CLIL Primary courses. We cooperate with over 300 teachers all over Poland as well as 60 internationally renowned corporate clients and 30 partnership schools.
We combine professionalism with a friendly face, the highest standards with an ethics of care.
Read our Cambridge CELTA blog
Click on the photo below or here to find out more about CELTA in opur blog posts!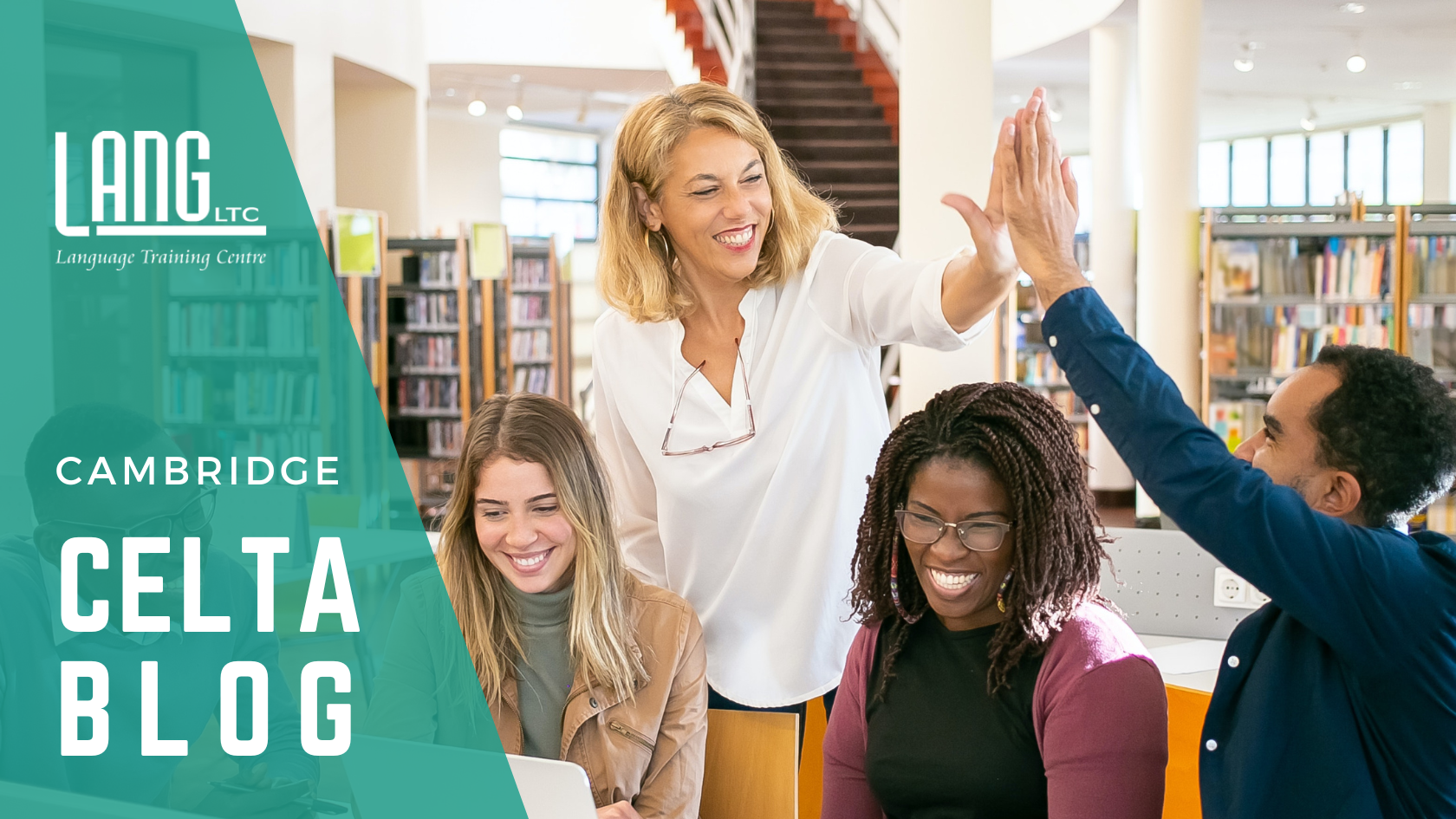 ONLINE CELTA CANDIDATES ABOUT THEIR EXPERIENCE